Our dolphins, birds and other wildlife
For many people, the Black Isle means dolphins. Chanonry Point is one of the best places in Europe for watching dolphins from the land: the resident pod of bottlenose dolphins often come within yards of the shore (if you are lucky). Other great "watching out" spots to visit include Cromarty, Nairn, Burghead, Lossiemouth, Spey Bay, Cullen and Aberdeen.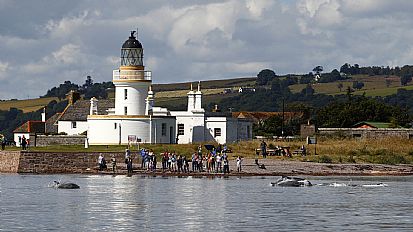 When heading out to Chanonry Point please consider walking or cycling the mile out from Fortrose or Rosemarkie. There is very limited parking at the Point and it is a very popular destination, visit black-isle.info/Chanonry-Point for more handy information to help you get the most out of your visit.
Wildlife watching tips at Chanonry Point
- April to August: To get the best chance of a dolphin sighting, aim to arrive from low tide onwards. Bottlenose dolphins regularly come in on a rising tide to hunt for Atlantic salmon and sea trout. If you can't time your visit to tides, don't worry - dolphins are also often seen at other points of the tide too!
- September to March: There is little tidal pattern to dolphin sightings and sightings occur much less frequently over certain winter months. Being in the right place at the right time is the name of the game - wrap up warm and cross your fingers!
- Other year round species to spot: grey seals, common seals and harbour porpoises.
The sea around the Black Isle contains vital foraging grounds for cetaceans (whales, dolphins and porpoises) and seals, and everyone loves to see them. However please be aware, it is an offence to harass or disturb marine mammals and you can be prosecuted for doing so.
If you witness someone harassing wildlife, report to the local Wildlife Crime Officer by phoning 101. Please also note that drones are not permitted at Chanonry Point due to proximity to the airport and regular helicopter activity.
Please keep a close eye on children and dogs near the water, Chanonry Point is not suitable for swimming due to very dangerous (sometimes hidden) currents. There have been recent helicopter rescues involving people trying to rescue their dogs and then being swept out themselves.
Click here for information on the pod from expert Charlie Phillips: Charlie is the Whale and Dolphin society's Adopt a Dolphin Field Officer and has studied the bottlenose dolphins of the firth for many years. You'll probably have seen some of his stunning photographs of the dolphins: get hold of his new book, "On a Rising Tide", marvel at the images and learn to recognise the individuals in the pod. If you want to help protect these wonderful creatures, consider adopting a dolphin yourself or as a gift.
Check our Gallery of photos and film.
For more information about the rich wildlife of the area, see the Black Isle Nature Facebook page. 
Birdwatching
The RSPB reserves at Fairy Glen by Rosemarkie and at Udale Bay on the north of the peninsula are very different from each other, and very special.
The RSPB say about Fairy Glen: Walk by a fast stream and gleaming waterfalls in this wooded glen, looking for grey wagtails, dippers and buzzards. This beautiful steep-sided valley is an oasis of calm, but do take care as paths are rugged in places.
At Udale Bay, the RSPB say: From late summer to April you can see thousands of wildfowl and wading birds here. Come an hour or two either side of high tide to be rewarded with spectacular views of flocks of flying birds. In autumn up to 5,000 wigeons feed here, while if you want to see an osprey fishing in the water, late summer is the time to come. 
Avoch Common Tern Project
Visit Avoch and look out from the harbour for Common Terns. The Common Tern is no longer as common as it was 100 years ago: the species has been in long term decline. Predation by mink and human disturbance on the traditional nesting locations, i.e. sandy beaches, are some of the reasons for their decline.
After the demise of the fish farm in Avoch Bay, the remaining rafts were made available to provide breeding platforms for the common tern, which is one of the most adaptable seabirds, able to take full advantage of suitable artificial habitat. Under careful local management by the RSPB, the colony has increased regularly and now supports up to 200 breeding pairs of terns, making it one of the most significant and productive nesting locations in Scotland. Terns can live up to 25 years or more, so a highly productive colony such as Avoch, can offset the decline in other more natural colonies.
---