Venture Safely
We are asking all visitors (along with local residents) to follow these simple guidelines:
Support Local Businesses. Respect Local Needs.
Stay Apart. Keep Connected.

Support Local Businesses. Please remember that the attractions of the Black Isle extend far beyond watching dolphins (free) at Chanonry Point. Many local businesses either closed or had trade severely curtailed as a result of 'lockdown'. Some are entirely dependent on tourist custom and others rely on additional visitor spend to make their business viable. A lot of the shops sell items unique to the area and the Black Isle has long prided itself on great produce. Food and drink is of the highest quality, much of it of local provenance. While travelling and/or staying in the Black Isle please contribute to the local economy and enjoy purchasing something of what the area has to offer.
Respect Local Needs. Think of us as a family. We welcome you into our 'home' but you must understand that Grandma, or the kids, still have their routines. We will do all we can to accommodate you, but they still expect their dinner on the table. When buying provisions please only get what you need and leave enough for the rest of us. During lockdown local residents have come to rely on their local shop and the shopkeepers have worked tirelessly to keep the supply chain going. They don't have huge storage areas and it is very easy for some stock to run out quite quickly. If they don't have exactly what you were looking for, be creative and adapt. Also, when visiting the store please follow the social distancing guidance – everywhere might be slightly different. Some are operating a one-in-one-out policy, others can accommodate a few more at a time. So please read instructions carefully and understand that they're there for a reason – and for all our benefit.
Stay Apart. Scottish guidance on 'social distancing' is different to other parts of the UK. Currently we like to keep two metres from others. Well, we might not like it, but that is what we're advised, and it seems to work. And stay apart in other ways too. The Black Isle has many hidden gems to explore. If Rosemarkie beach is looking crowded, or the Cromarty streets are bustling with folk, take yourself off to somewhere more remote – and enjoy the peace and tranquillity that affords. Isn't that the whole point of being here after all?
Keep Connected. The Black Isle communities are working hard to keep everyone informed of latest developments and up to date news. The good things as well as the serious stuff. While you're with us follow the many community Facebook pages, or #BlackIsle on social media. Read the noticeboards in the village centres. Best of all keep www.black-isle.info in your favourites list. You never know, you might find out about something that you wouldn't have known otherwise – and it could make your stay extra special.
When you're with us you're part of us!
Above all, whatever you do, do it SAFELY
Venture safely
The Black Isle Partnership is co-ordinating the distribution of the Scottish Government's Communities Resilience Fund across The Black Isle.
Please consider printing off one or more of our posters for display in your home or premises - wherever you may wish friends and visitors to see them - and wherever there is a high footfall of visitors please stock a range of them in quantity. Each file will provide an A4 sized poster.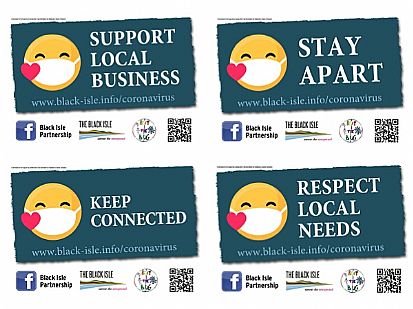 Library folder shown here
For more information you may like to read the Newsletters of the Black Isle Partnership. Newsletter 1 was distributed as a PDF. Subsequent newsletters have been called The Black Isle Bulletin and are downloadable from the links here.
The Black Isle Bulletin No 2 dated July 6 2020 can be read here.
The Black Isle Bulletin No 3 dated July 23 2020 can be read here.
The Black Isle Bulletin No 4 dated August 12 2020 can be read here.
The Black Isle Bulletin No 5 dated August 25 2020 can be read here.
Library folder shown here
The most direct source of information from the Scottish Government is from their webpage on the second phase of Coronavirus recovery and for local information to the Highlands the website of the Highland Council.
The Highland Third Sector Interface is working closely with partners in the Third and Public Sectors and in the community to support the wide range of community support developing in response to the outbreak of COVID-19. Full information is available at their website. A listing of supporting organizations on the Black Isle is to be found from the Mid Ross tab of their register.
Helpful information from Black Isle Cares
Black Isle Cares has been producing newsletters in response to the crisis.
The issue dated 7 April called Help on the Black Isle is available here.
The May issue called Stay Well at Home is here.
Co-ordinating support for The Black Isle
In early April representatives from all the local communities in the Black Isle took the decision to appoint the Black Isle Partnership as the 'Community Anchor Organisation' to administer funding in response to Covid-19. This was necessary as few of the local community organsiations are constituted in a way that enables them to access government grants. It also means there is a single voice for the whole of the Black Isle and avoids different communities competing for the same resources. By sharing ideas and examples of things that are working well everyone, hopefully, benefits. It also supports the aim that nobody should be missed out – this is particularly important for people staying in some of the outlying places.
Even before any major funds have been secured the Black Isle Partnership appointed a paid Community Resilience Co-ordinator, Asia Cielecki, to help run the operation on a day-to-day basis. Weekly conference calls involving representatives from all areas feed in information about what's happening in their community and from that a sense of what the priorities are can be agreed. Its early days but there is a strong desire to collaborate and a realisation that the Black Isle as a whole is stronger working as one. A questionnaire for all residents is being circulated to build up a picture of what people's particular needs are. Please look out for this and take the time to respond. In the meantime if you have any burning issues which you think the partnership can address please contact community@black-isle.info More information can be found on www.black-isle.info/black-isle-partnership and the Black Isle Partnership facebook page.
The Black Isle Partnership is bidding for a range of government funds that are to be delivered through Community Anchor Organisations.
Update from Highland Council through Di Agnew, Ward Manager for Black Isle and Dingwall & Seaforth Wards, Chief Executive's Office, Highland Council.
News from the Coronavirus hub.
The Highland Council is responding to those in urgent need of emergency food provisions. We are currently responding to clients on our own Children and Families lists as well as those on the NHS adult care vulnerable people lists who are in need of urgent support with food or prescription deliveries as well as other issues as they arise. This is in addition to our main response which is to those phoning our helpline (0300 303 1362). While we do have quite large supplies of dried / ambient foods as well as frozen meals, we do rely heavily on the third sector to help. If the relevant community group is unable to help, or if the customer has not given us permission to share their details, we would deliver the order directly from one of around 8 distribution hubs we have throughout Highland.

There are around 350 groups for Highland currently on our database who specifically responded to say they wished to help in this crisis. They are spread right across the area and range from very small groups with a tight geographic or sectoral focus to much larger organisations serving the whole of Highland. Not all are constituted with some just being informal groupings of keen, committed people.

Also just so you are aware the Highland Council's Ward Discretionary Budget – Supporting Community Resilience Grant has been paid out £500 with second payments available on claim when to:

* RANK, Kessock Kindness Residents of North Kessock Community Company Ltd
* Avoch and Killen Community Council - Avoch and Killen Community Support Initiative
* Cromarty and District Community Council
* 1st Avoch Sea Scouts (volunteers are Scout Leaders and the accounts are being administered through the Sea Scouts – they are working in partnership with Avoch and Killen CC and the Dingwall Hub not as part of the Seas Scouts (hope you follow this it is for your information).
* Cromarty and District community Council
* Knockbain Community Council
* Black Isle Cares
* Fortrose and Rosemarkie CC

I will keep in touch with you with any relevant updates from either the Coronavirus Hub or from the Ward in general relating to COVID19 response.

Take care and if you have any queries please do not hesitate to contact me.

Diane Agnew

Diane Agnew, Ward Manager for Black Isle and Dingwall & Seaforth Wards, Chief Executive's Office,
Main Council Offices, Dingwall, IV15 9QN
Tel: 01349 868477 ; Mob: 07932 999380
Email: diane.agnew@highland.gov.uk