Resolis Summer Festival
Please scroll to the bottom of the poster to read much more information.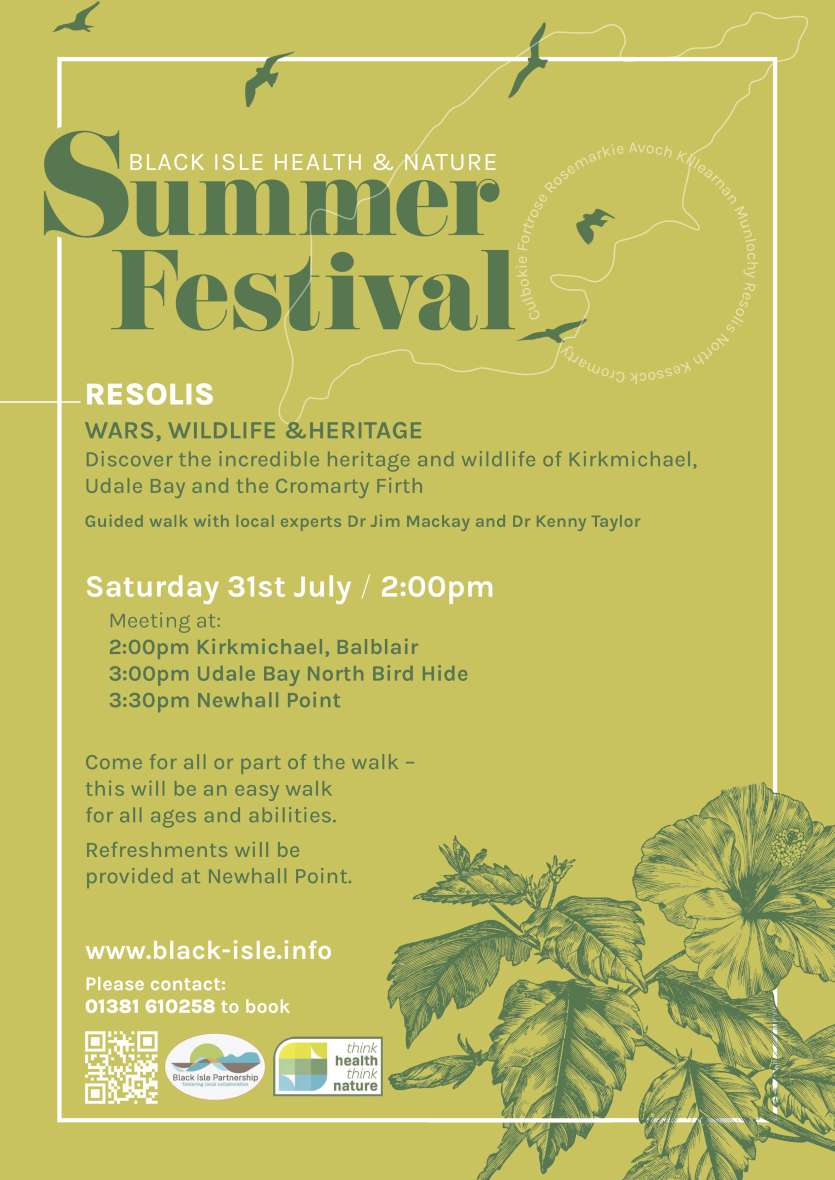 Feeling cut off by Covid?
Join us on Saturday July 31 @ 14.00
Come for all or part of the walk – this will be an easy walk for all ages and abilities.
The plan is to meet at Kirkmichael for the first two items on the programme, then to drive to Newhall Point for the third. Refreshments will be provided at Newhall Point.
See you there!
Kirkmichael:
Join Jim Mackay to hear the story of memorials at Kirkmichael - the solitary Gaelic inscription, the Claymore slabs, the medieval ornate crosses. View the work to repair and restore now over 50 memorials at Kirkmichael - and of course see the award-winning restoration of 15th century Kirkmichael itself! All done in Jim's informative but entertaining style.
Udale Bay:
The tidal mudflats from Jemimaville to Newhall Point give rich feeding and safe roosting for tens of thousands of birds through the year and life-support for many other creatures. Small wonder that the hides overlooking Udale Bay are popular vantages for birdwatchers, and that any part of this coast is worth a visit to savour its nature. Marine and saltmarsh plants, seals, otters and huge flocks of wildfowl and waders are part of the scene here at different seasons. Small marine molluscs and worms, and plants such as eelgrass, help to fuel many of the birds year-round. In summer, others such as ospreys and terns dip for fish in the shallows. Udale is a key part of the wider Cromarty Firth Site of Special Scientific Interest and an international hub for wildlife, with many stories of the wild that are held within it. Kenny Taylor will show how Udale Bay is part of a firth-long supersystem for wildlife. We'll look and listen for birds, but also see how plants and molluscs fuel this natural haven for coastal creatures. Ospreys may oblige, but who knows? That's part of the fun of this special place.
Newhall Point:
Chapelton at Newhall Point was a planned village built around the salmon fishing station there, with skilled artisans being sought to purchase feus. The remains of the stake-nets can still be seen on the shore. There was an Ice-House to store ice used to pack the salmon to keep it fresh on its voyage to southern markets, and also a Boiling-House to cook the salmon before packing in barrels. Behind the houses at Chapelton there is an ancient burial ground, where the most recent burials were from the 12th century, and many exhibiting the head-set style of burial. From the Point, the history of the Firth in the two World Wars will be explored, including the remarkable Battle of Jemimaville.