Where is the Black Isle?
The Black Isle lies within the Highlands of Scotland, half way between the Scottish Border and the Shetland Isles.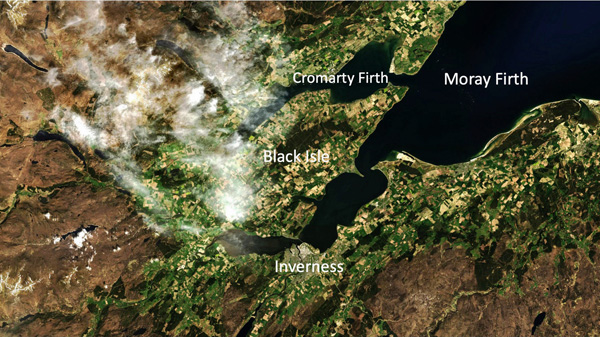 The Black Isle is part of the fertile fringe of Scotland bordering the Moray Firth and joined to Inverness, the capital of the Highlands, by the Kessock Bridge. The Black Isle has an area of around 300 sq km and is made up of farms and woodland and small villages. Surrounded on three sides by water... not an island at all in fact but a peninsula bounded by the Moray and Cromarty Firths.
Free visitor maps available locally
The Black Isle Tourism Team has produced a two-sided Visitor Map which is available from many cafes, accommodation providers, campsites and visitor attractions.
.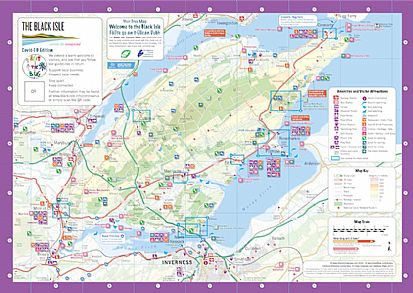 One side is a detailed map of the Black Isle and the other has street plans of the chief villages. Visitor-related features are all marked.
Download the Black Isle Peninsula Map
Download the Black Isle Villages Map

Getting Around
Click here for all information about bus travel on the Black Isle.
Further information about getting around on the Black Isle, including all public transport and great cycle routes, is to be found on the Active Travel Map published by Transition Black Isle. The map is entitled The Black Isle by foot, bike, bus and train - the perfect map to help the smarter traveller explore the Black Isle. The map is available across the Black Isle price 50p. It may be downloaded from the Transition Black Isle website Active Travel Map page.
To find a car-share partner either for a regular journey or for a one-off trip, sign up with Highland Liftshare.
Cromarty - Nigg Ferry: the Renfrew Rose
For the latest information on the ferry, including weather updates, see the Highland Ferries Facebook page here - it's always a good idea to check, especially if you're cycling. The ferry is scheduled to run as follows:
Daily from 1st June 2021
Depart Cromarty every 30 mins from 8am to 6pm
Depart Nigg every 30 mins from 8.15am to 6.15pm
Ferry arrives 5 minutes before departure time.
When the ferry gets busy it is likely to operate a shuttle service so would be running out of timetable to try and get everybody across as quickly as possible.
The ferry is able to carry 2 cars and 12 passengers.
Fares:
Passenger/Adult single £4.50 return £6.50
Child (5 to 15 years) single £2.00 return £3.00
Cyclist single £5.50 return £8.00
Car (including driver) single £9.50 return £15.00
Motorbike (including rider) single £7.00 return £10.00
Van, minibus, campervan single £16.00 return £24.00
Family car ticket (1 car plus up to 2 adults and 3 children) single £21.00 return £29.00
For more information, please contact Dougie Robertson of Highland Ferries on 07468 417137 or email southuist24@hotmail.co.uk
NEW: Get the ferry app! on Itunes and on Google Play
---