Chatterbox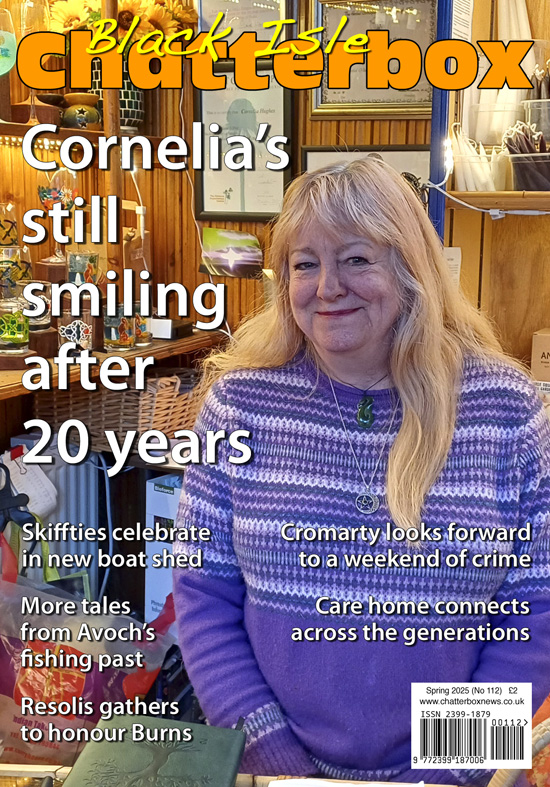 Highlands and Islands Community Newspaper of the Year 2019 and 2016, runner-up 2017

When you need anything from a replacement zip to major alterations, Noreen Mackay is the first name on anyone's lips in the Black Isle. In our Winter edition, we meet Avoch's ace seamstress and learn how she discovered her love of dressmaking.
Also handy if you're in need of something mended or revived is the team behind the travelling Repair Café, recently plying its trade in Avoch, Culbokie and Cromarty and soon to drop in to Fortrose and North Kessock. Textiles, bikes, electrical items and computers are just a few of the things the volunteers can help with, plus general repairs and tool sharpening – and there's tea and cake too. We learn all about them.
Tea, cake and lots more is on the menu at the Beach Café in Rosemarkie, which will stay open all winter. We discover what it has planned for the colder months.
Emma Macleod from Bogallan was determined to honour the memory of her good friend Kay Mills, who died of cancer, with an epic adventure in aid of Highland Hospice. In March she will spend a week in the Arctic on the Lapland Husky Trail, trekking 250km from Norway to Sweden. She tells us all about it.
Someone else mourned by good friends was Lynn Patience of Avoch. In November, a specially commissioned bench for the village was unveiled with fireworks, bagpipes and celebrations to mark a life ended too soon.
Also much missed is Fortrose's Betty Marshall – also known as the author Elizabeth Sutherland – whose long and eventful life is celebrated in our latest edition by her son, Mike.
Winning election as a Highland Councillor is just the start of the hard work, Sarah Atkin tells us. One of the three new Black Isle representatives, she writes about her role and what she hopes to achieve in the years ahead.
Plants are masters in the art of self-defence, Chatterbox reporter Sandy Mitchell tells us in his latest look at the Black Isle's flora. Learn all about it in our Winter edition.
And there's more, all for only £2. Don't miss your copy.
Russell Turner
Editor