Moray Firth Ship to Ship Oil Transfers abandoned
04/12/2018
A port authority has abandoned a controversial plan for ship-to-ship transfers of oil in the Moray Firth.
Invergordon's Port of Cromarty Firth has now announced that it was no longer pursuing a licence for the operations.
Environmental campaigners who opposed the proposal have welcomed the decision.
Ship-to-ship operations involve one cargo ship transferring crude oil or other petroleum products to another vessel while they are moored alongside.
Carried out at sea, the transfers mean products can then be moved to more than one port, and also avoids the need for berthing charges.
However, opponents have concerns about the pollution risk posed by spills.
In a short statement, the Port of Cromarty Firth said: "Due to higher priority projects the port will not be pursuing the resubmission of our ship to ship at anchor application."
Last month, it announced it was investing £30m in expanding its quayside to accommodate energy projects and large cruise ships.
The port also secured a £10m contract for storing parts needed for constructing the Moray East offshore wind farm.
The Port of Cromarty Firth had sought permission for ship-to-ship transfers in 2015.
In 2017, the Maritime and Coastguard Agency, which considers applications for ship-to-ship transfers in consultation with other organisations, requested that the port withdraw its application and resubmit it.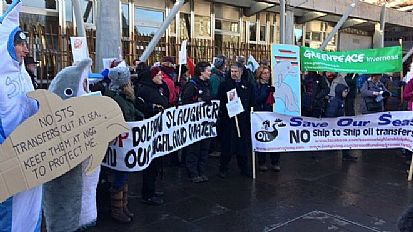 Opponents to the proposal raised a 100,000-name petition and held protests outside the Scottish Parliament.
Campaign group Cromarty Rising and Green MSP John Finnie have welcomed the port's announcement.
See https://www.bbc.co.uk/news/uk-scotland-highlands-islands-46439179