Chatterbox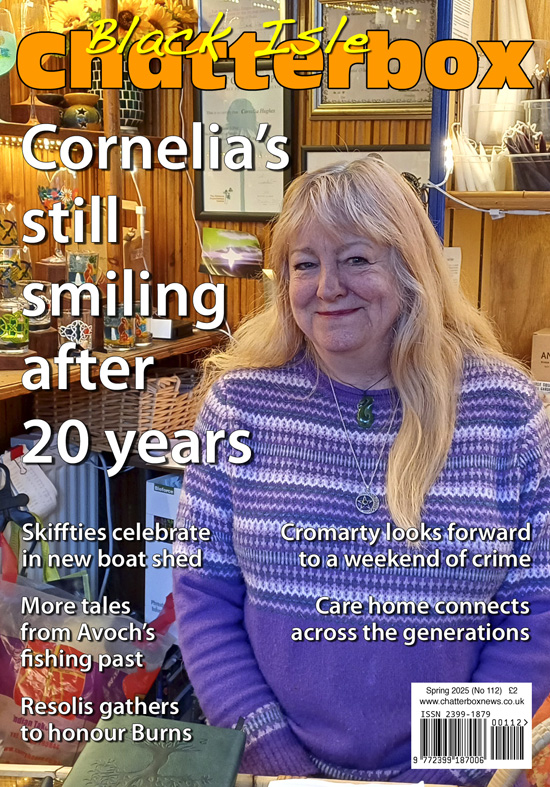 Highlands and Islands Community Newspaper of the Year 2019 and 2016, runner-up 2017

Never tell Martin Gill he can't do something because he's a sucker for a challenge. The Easter Templand farmer is currently sharpening his dance moves ahead of an appearance at Strictly Inverness in May. Find out all about it in our Spring edition.
Also keeping busy is Donnie Mackenzie, still active after retiring as head of Fortrose Academy. We tell you what he's up to.
Three local groups are under our spotlight: we describe the attractions of Avoch Friendship Club, the variety of interests open to members of Inverness and Black Isle University of the Third Age, and future plans by Black Isle Men's Shed members following the first year of activity.
Other groups are looking for help. Are you the person to come to the rescue of the St Boniface Fair or the Black Isle Swimming Pool Foundation? The future of both is uncertain without new blood.
Looking ahead, Cromarty's annual Crime and Thrillers Weekend combines big names with local authors in April; in May, Bill and Brenda Martin unveil the Truly Terrific Tree Trail in May; in October, the Black Isle Gathering returns to Fortrose Academy with a new hand at the helm. We learn all about them, and more about the community hub taking shape in Avoch.
Culbokie enjoyed another orienteering challenge in its local woods. We tell you all about the day.
Finally, we're delighted to report that Chatterbox has won the Highlands and Island Community Newspaper of the Year title for the second time in four years. If you're new to us, pick up a copy and find out what you've been missing – 48 pages and still only £1.50.
Russell Turner
Editor